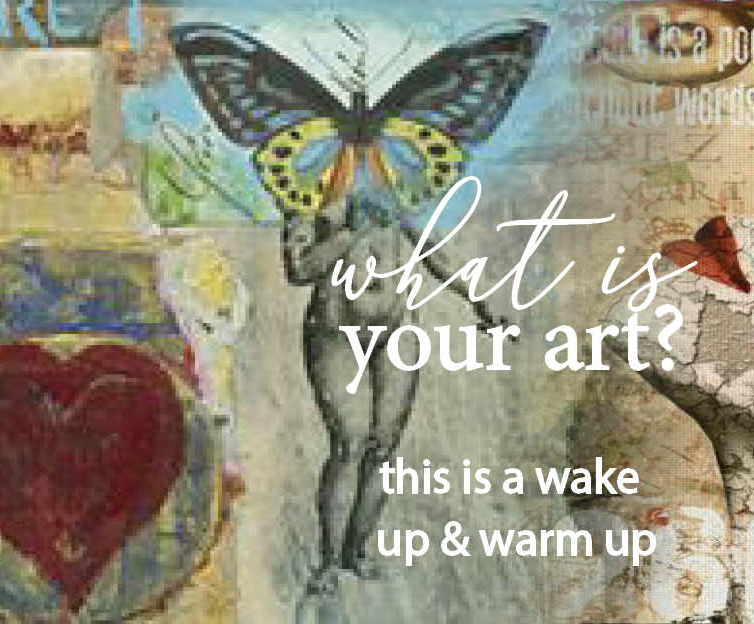 Coming

June 1
"Art is not a thing. It is a way." Elbert Hubbard
soul + art = deep creativity
Come PLAY with art in a new & old way!
This is a 24 day art pilgrimage introducing basic art & psychology concepts, tools & techniques to help wake up & warm up to your innate inner artist. With daily lessons, labs, affirmations & more, this path is designed to awaken your creative power . . . not just to create art but your life. Based on the time it takes to create a new habit, 24 days is a spiraling into your creative core & back out into your life & world. Come home to your artistic self.
Art is, like magic, the science of manipulating symbols, words or images to achieve changes in consciousness.
Alan Moore
24-day Art Toolkit
This is a 24-day introduction to the basic and yet essential skills of creative expression. Plus, a bonus Art History Tour, Soul Collage, (Fun) Critique Group, Mandala Centering & Depth Psychology + Art Orientation. Com PLAY!!
Partner & Group

Weekly live support

Daily content

Video, audio, prompts . . .

soul art school=flexible

Made for you & your life

Bonus Material

To explore more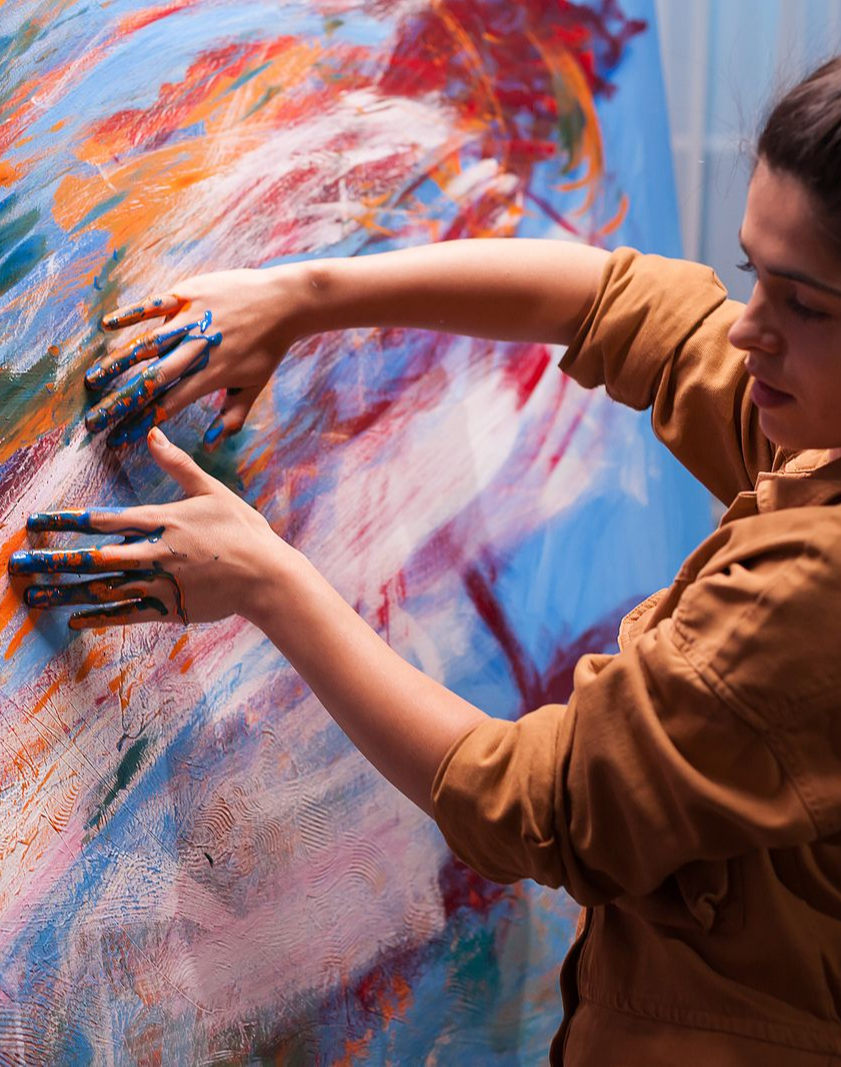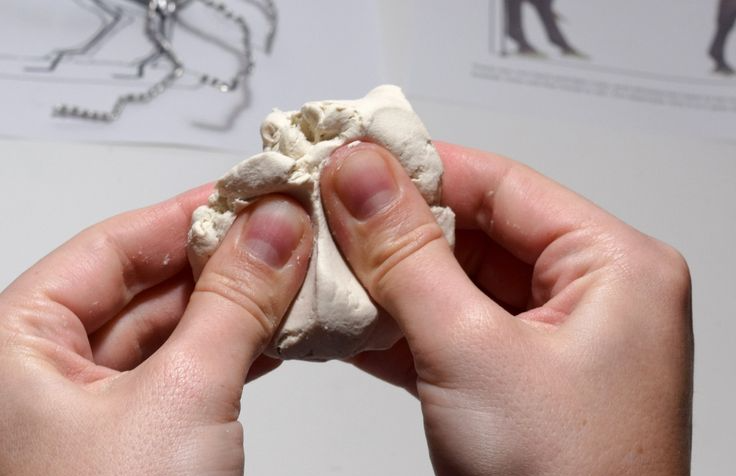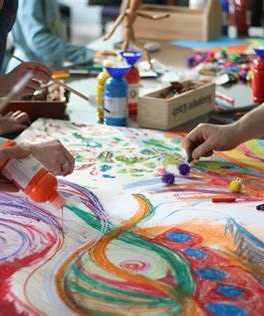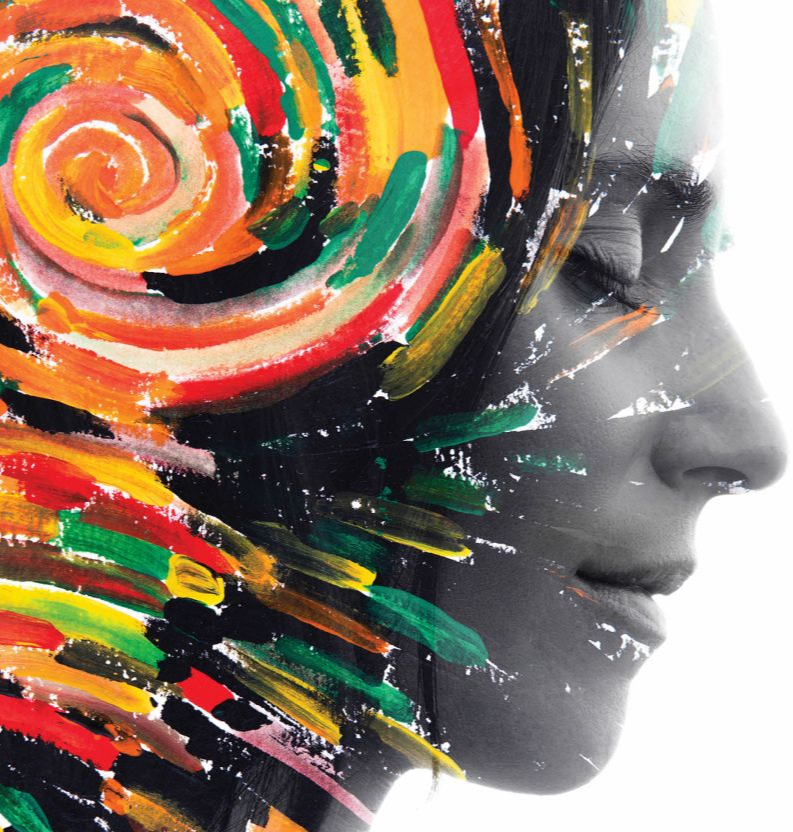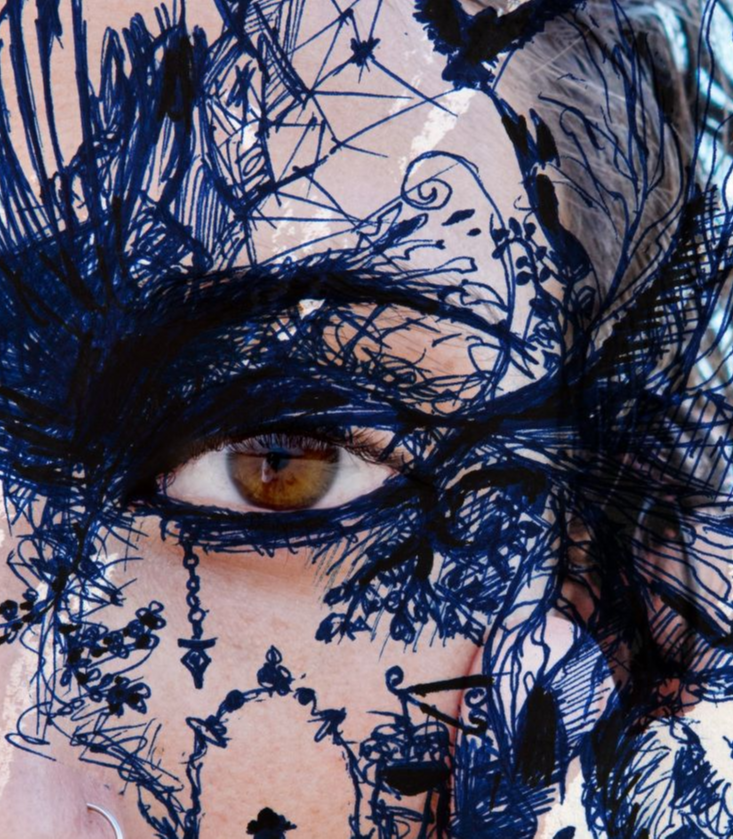 24 days for deep & lasting change
There is a method to the madness. 20-26 days has been found to be the time it takes to create a new pattern & sustain it (which is the big part). In order for this change to take root in you & your life, you need to take it seriously . . . but not too seriously. Some things are too serious to take seriously, & this is one of those things (like all of the content of Soul Space). So, we will be playful & have fun, while remaining steadfast in our journey. Perhaps the best word for our approach is sincerity from Latin meaning "clean, pure, sound" or "one growth."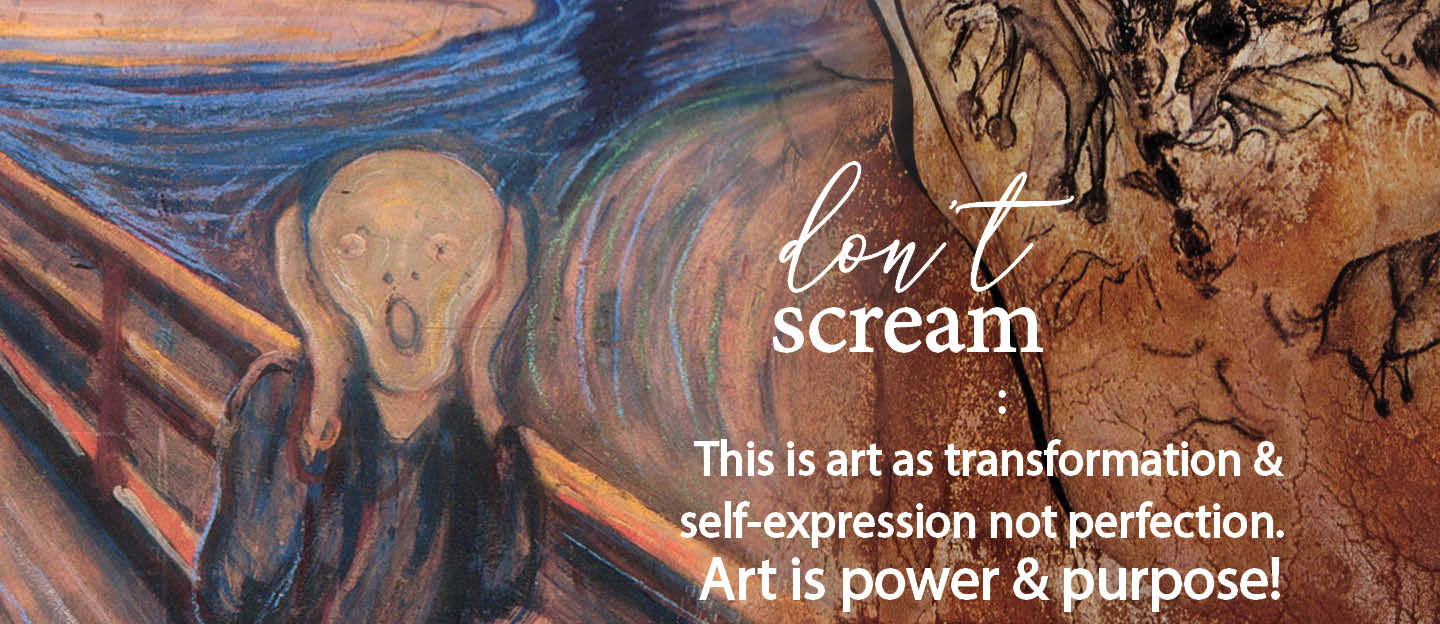 Why should I take this course?
This course is the most impractical & practical thing you can do, preparing you not to make a living but to make a life & really live. It empowers you through art & a toolkit to transform.
This
toolkit
is really for everyone, because we all need to heal, learn & grow. It is for you if you feel: lost, anxious, depressed, hopeless, disconnected, lonely, disassociated or confused. Yet, it is also for you if you feel: excited, on the cusp of a breakthrough, a call to something deeper or more, a need to help others or the world. In truth, the "call" to this course can take many forms, and everyone can benefit from its transformative potential. Go within & ask your soul.
Combining powerful transdisciplinary practices this toolkit has many
BENEFITS
:
Increasing

: immunity, clarity, cognition, energy, concentration, self-acceptance, love, worth, confidence, empathy, esteem, communication, understanding & power.
Decreasing: anxiety, depression, dependence, insecurity, stress & addiction
To create a work of art is to create the world...art is free.
Wassily Kandinsky
This art is safe
People have art trauma, but this is not your elementary art class & Heather is not a scary teacher. In fact, the course is designed to help you recover from & break through trauma & blocks. Breathe deep. This is fun & you are ok. 95% of 2nd graders say they are artists, but by high school only 5%. Time to become a child!
Create! Play, Explore & Be
Picasso said that all children are artists. The trick is to get our creative power back, but the beauty is that art takes us back to our childhood artist to heal. This is a process of deconditioning & unconditional love in which your soul "parents" you to become your fun-loving child-self.
What's in your kit? Content to jumpstart your art!
Daily 5-15 minute videos


Daily Creative Activities

Support Structure

Clear & Concise Tutorials

Daily Journal Prompts
50% Discount for you + 10 free kits to those in need. Thanks!
Because this is ESSENTIAL healing for our world & time. We need to pull it & come together inside & out.
Bonus Material to Continue (value $225)
While you go on to other classes or somewhere else, this toolkit expands to go with you & help along the way.
Everyone is an artist. Everyone is creative in their own way and that creativity is a great thing. . . it needs to be nurtured and it can help us go down life's path and help us to become deeper, richer, more satisfied human beings . . . art is no different than prayer.
Rainn Wilson
Why an Art Toolkit & what is it?
Art is a way of knowing that is within all of us but buried deep, repressed & dismissed by our society's lack of appreciation & understanding of it's true power. The good news is that we have the innate ability to create, an inner artist that is dormant but powerful. This kit is designed to awaken you to your own ability through a return to an older way of deep creativity. This is the opposite of art to go with your sofa. It is art as an archetypal power that blows up blocks to clear a path & way for our inner creative healer. POW & ZOOM!

24 days of tools for creative life support

This challenge is designed to loosen up your inner artist & shut up (or calm down) your inner critic (often your real parent). Each day is a psychological play session with introspection facilitated by art as a way of healing & knowing.
Partner and Group Work for support (assigned or self-selected & covered in the first day)

Live weekly sessions with Heather (as a group & by request)

Engaging flexible daily content (that can be done in a "day" of creation of Allah, Brahma, Eurynome . . . or)

Safe Transformative Group Container (class, partner & self-generated by creating your own )

Archetypal & Evidence-Based Power Practices (combining ancient wisdom & modern science)

Personal & Transpersonal Healing (transcending human understanding to connect to the world)
What is a "day"? It's relative
Time is not real & you can take the time you need. This is self-paced & you get to blaze your own trail on a flexible & recyclable path.
Each day can take as long as you want with the ability to return when & as much as you want to "finish."

Each day has: an affirmation or mantra, psychological concept, activity, lab, prompt & memory anchor

Each day can be done in an hour or less but also take much longer. (Art is uncontrollable & predictable.)

*Recommendation: take a "run" at this & then return
Coursework and play . . .
Each day your content drops down for you. When you sign up, you will immediately come to the new content, but you can also go back to review past material too. As you drop into the new material, I also suggest that you "drop into your heart." This was the number one message from my soul.
Retell your story
Day 1
What is your art history?
A: Create a life comic strip. (Stick figures welcome!)
No Mistakes
Day 2
No right way, only your way
A: Create an ugly image. (Spatter. Scratch. Whatever!)
Free>Perfect
Day 3
You are perfectly imperfect.
A: Collage your weird/wyrd. (Embrace your unique fate.)
Inner Artist
Day 4
A: Soul Portrait Meditation
(What is your soul essence?)
Flow
Day 5
A: Heart Drop Practice
(Drop into the body & BE.)
Release Fear
Day 6
Conquer fear with silliness!
A: Blind Contour Portrait
(Soul is Fearless Love!)
Overcome Blocks
Day 7
A: Draw your block & burn it (Soul Pyromaniac fun!)
Creative Courage
Day 8
Breathe Deep. Art is life.
A: Creative Courage (Soul is fierce!) Written Manifesto
Color Flow
Day 9
Deep Color. Wet your brush.
A: Paint emotions to know & recreate a flow state in life
Play with Lines
Day 10
Lines are Building Blocks
A: Create a Line Contour drawing to embody lines
Texture of Life
Day 11
A: Texture Map to gnosis how it feels inside & out
Pattern On
Day 12
A: Make a Life Pattern image to remember change
Study Contrast
Day 13
Create contrast to know it.
A: Black & White Paper Art
+ & - space creates duality
Shape Your World
Day 14
A: Positive & Negative Space = transcendent function
Compose a World
Day 15
Compose without imposing.
A: Create & enter your Soul's World as a composition
Cocoon to Fly
Day 16
A: Go for a nature walk & see what is unfolding
Creative Flux
Day 17
A: Create Impermanent Art to connect to life & death.
Integrate Parts
Day 18
Create a mandala of the Self.
A: Life Circle drawing to
remember & integrate parts.
Invite a Friend
Day 19
A: Go on an art Play Date somewhere you love
Mantra Magic
Day 20
Create & chant a message.
A: Mantra Magic focuses your creative/creator power
Symbol Talisman
Day 21
Embody your new creativity.
A: Make a Talisman or energy image on a necklace . . ?
Art Portrait
Day 22
A: Create a Self-Portrait of how you see yourself & art.
Secret Message
Day 23
A: Layered color with writing to create a hidden contract
Artist Statement
Day 24
An artist statement is YOU.
A: Write an Artist Statement to express your unique truth

This is a year-long monthly drop in to support you where share as a group, as questions & break into partners for creative support.
Art Partner & Group
This is NOT a critique group but a support group where curiosity, mystery & inquiry create a container for risk-taking, insight, awe & reflection. No judgement allowed!
Learn how to ask questions to foster deep exploration
Reimagine how you communicate for internal vs external power
Create authentic stability & confidence to "come out" as an artist
Mirror each as partners & a group for greater soul perspective
Share knowledge, techniques, skills & experiences benefitting all

Art History Insight
Virtual Tour Video
Soul Collage Vision
Image to Remember
Mandala Centering
Sacred Geometry
Art & the Unconscious
Tour of the Depths
Life beats down & crushes the soul & art remind you that you have one. [No more art beatings!!]
Stella Adler
an embodied psychological (Soul) approach to creative power
Art Integrates: Sensation, Emotion, Thought & Intuition
Physical & Ritual Art
Art embodies soul energy to see & know it
Emotional Expression
Art facilitates emotional trauma & release
Gnosis & Knowledge
Art connects head & heart in a gnosis
Insight & Intuition
Art is a way of seeing past the invisible veil
Revelation & Grace
Art reaches beyond to reveal the cosmos
Mystery Beyond
Art is the way to touch the mystery
To create one's world in any of the arts takes courage.
Georgia O'keeffe
This is a beginning but essential step
This kit is a first step to remember your inner artist & shake off the fear of your conditioning & limitation. You may already have a toolkit, skills and practices that you use to connect to soul & create art, but chances are that there will be added value in taking this kit which will introduce the content in a way designed specifically for this trail. As always, you implement the information in your own way, making it a part of your own journey. This is between you and You. You want to connect to & follow your inner guide & intuition.
Every artist dips his brush in his soul and paints his own nature into his paintings [their singing, dancing...].
Henry Ward Beecher
Heather Taylor-Zimmerman
A playfully creative guide
I am Heather & your guide on this creative jump start. An artist, visionary, educator & speaker, I have decades of experience from art history to creative transformation, but what I really draw upon is my experience with mindfulness & meditation . . . with art. For, what you really need is to let go & be receptive, to FLOW & BE FREE.
Your Soul, the Path, Creative Spark . . .
As always, your soul (by whatever name) is the guide.
The soul guides you through art & play. The trick is to let go of your ego control & "leave things to chance" or synchronicity, as C G Jung said, to let soul move in you & through you. As you transition from ego to soul, you walk upon painted stepping stones that guide & transform you & the world. All you need is receptivity & honesty.
Spiral in & back out . . . then again
As you walk you activate your imagination & open to the symbolic guidance of the soul in your life through synchronicity, dreams, and visions. Opening to an archetypal perspective, you will begin to perceive the story that underpins your life and relationship to life itself. As you move through the coursework, each day's lesson will "show up" & reveal itself in living images and experiences that deepen your insight. Walking in this way, brings you to greater consciousness, as it weaves your inner & outer, unconscious and conscious lives & worlds together. This union is the healing nature of the soul that unites opposites to connect the dots and see the big picture.

Our mission is to claim our creative power!
Our online learning platform gives you the flexibility to complete classes at your own pace, on your own schedule.
Our training materials have been specifically designed to be engaging and informative. Our courses are easy to follow, and are broken down into digestible chapters, which contain a mix of text, images, and videos.
We understand that staying at the top of your profession means accessing education and earning certificates efficiently and effectively.
We provide online courses that prepares everyone for the real world. We offer an array of courses that cover everything from business to writing skills, helping our students gain knowledge and practice their skills at the same time.

& an re-orientation on how to view or imagine art . . .
Frequently asked questions
1. Do I have to have art experience?
Answer 1: No. There are benefits to having & not having experience. The main thing is effort, courage & honesty.
2. Do I get to choose how I create?
Answer 2: Yes. You always get to choose. This is your art. The course offers guidance & support . . . but you choose.
3. Will I learn different kinds of art?
Answer 3: Yes. Each day has a different teaching & technique, combining creativity, ritual, mindfulness . . .
4. Do I have to finish "on time"?
Answer 4: No. You get to take your own time. This is self-paced self-transformation, love & empowerment.

Creating a container for soul
Our class is a container & we will open and close each session with ritual to pattern a more ensouled way of being & being in the body. Additional containment can come in many form & layers, creating a safe sacred space in your own way. Everything that you do, & especially all ritual, is self-generated. This means that it is done your way, in your language, whether visual, verbal . . . or a combination. As you create sacred safe space, you allow yourself to go deeper & cocoon, nurturing your creative practice in your body and body of art as a temenos or sacred enclosure. Click below to explore how to do this.
Temenos
Transformation requires a safe space for reverie--a liminal state in between conscious & unconscious.
A structure to CONTAIN the process
This process is contained by your soul but also by 3 circles of support made by you and your classmates . . . or friends, family, whoever you pick. These circles have been proven to help foster deep connection, helping with insight to makes changes in the body & brain. It is also an accountability practice. This can be short messages on the embedded social media hub with your partner (you can make your own groups with anyone) or within the class container. As always, you get to do this in the way that works for you but participating helps.
Alone
You travel alone to self-reflect
The daily content is designed for you.
Partner
A partner helps to mirror you.
Partner work is woven in daily & weekly.
Group
A circle contains & holds you.
Circle work is a temenos of sacred space.