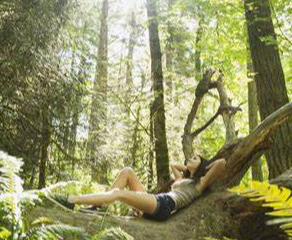 1.1.24
ego < ECO
Ego, I or self< Eco, family + land) or whole Self

self<Self
Return to your nature in nature
This is a 12 month course that leads you on an initiatory journey to new insight, identity, and calling. A passage marks a transition from one stage of life or healing to another, so a rite of passage helps you take the big steps in your life journey. Moving through the stages of preparation, separation, transformation, and integration, you discover a new sense of intimacy with yourself and the world around you. Come journey into the wilderness.
To be whole. To be complete. Wildness reminds us what it means to be human, what we are connected to rather than what we are separate from.
Terry Tempest Williams
Raven Council
This course combines circle work, land-based teaching, rites of passage, self-generated ritual, mirroring, power tools, indigenous & archetypal teaching to guide you on a journey into inner & outer wilderness to find your call, direction, purpose, power & a new name & identity.
What is included
Learn to use all the related tools, walk into a job and be a rockstar from day one. The skills you need to become a real professional. Thrive in your career.
10 circle gatherings over 5 months onsite or online option
partner, group and individual support circles
Video Conferencing &online resources with video, audio & links
Art Projects: hand made & painted drum, medicine pouch, necklace, rattle, nature journal, talking stick & power circle
3 day rite of passage in nature with a ceremony

Onsite in Washington & California Beauty
Our online learning platform gives you the flexibility to complete classes at your own pace, on your own schedule.
Our training materials have been specifically designed to be engaging and informative. Our courses are easy to follow, and are broken down into digestible chapters, which contain a mix of text, images, and videos.
We understand that staying at the top of your profession means accessing education and earning certificates efficiently and effectively.
We provide online courses that prepares everyone for the real world. We offer an array of courses that cover everything from business to writing skills, helping our students gain knowledge and practice their skills at the same time.
Why we need this now . . .
There are many reasons for our current crisis.
Children spend 4-7 minutes daily outside & 7 hours on screen, increasing nature deficit disorder, obesity, technology addiction, depression, anxiety & disease

Modern rites of passage have been lost & diminished

Personal, family & community support has decreased
Benefits for your mind, body & life.
MENTAL. anger management, anxiety, bipolar, depression, OCD, personality disorder, disassociation, trauma healing & recovery
BEHAVIOR. ADD, ADHD, ODD, Pathological Lying, DMDD
TRAUMA. physical/emotional/sexual abuse, adoption, attachment disorder, bullying, divorce, COVID disassociation & PTSD
ADDICTION. eating disorder, co-dependence, substance and technology
GRIEF & LOSS. death, divorce, disease, and life transitions (moving . . . )
EDUCATION & TRANSFORMATION. life skills, goal setting, mirroring, problem solving, mindfulness, deep listening & empowerment
Why walk this path?
What people have experienced
Who is this path for? Everyone
While often for those at major transitions, like graduation, this path is for anyone who is ready to take the next step on the path of their transformative journey. Are you called to move deeper into a more intimate connection with yourself, others, and the world? Do you want to have a meaningful and transformational experience that can help you know and love yourself more fully? Following in the footsteps of rites of passage throughout time, this course is designed to lead you to a new name, identity, life, and purpose.
The future will belong to the nature-smart-those individuals, families, businesses, and political leaders who develop a deeper understanding of the transformative power of the natural world.
Richard louv
Some basics . . .
This is a land-based offering where our nature & nature teach us, guiding our circle as we move through the seasons. This happens in many ways.
Example activities
: forest bathing; befriending a tree; grounding, breathing; nature journaling; medicine walk; vision quest; animal spirit; meditation; hiking; indigenous traditions; story telling; eco-mindfulness; elemental teachings; outdoor school; nature-based metaphors & myths; nature rituals & activities
Rite of passage. a ceremony or event marking an important stage in someone's life, especially birth, puberty, marriage, and death [graduation, disease, retirement...]. ROP vary but include time in the wilderness to facilitate a vision of the person's calling & identity through inner guidance (soul, intuition, spirit, ancestors & guides) to help you find yourself & way in life (not the world's.)
Frequently asked questions
1. Does this have to be hard
While rites of passage are traditionally rigorous, this does not have to be hard. What is more important is that your experience is meaningful and perfect for you. Yet, the wilderness is an initiation, calling & challenging you. The traditional commitment is fasting with water for 3 days but it can be one and mental & physical health are 1.
There is a magic to this that can't be explained, rooted in the archetypal nature of 3 days in the wilderness. We gather in circle, learning techniques & tools inside & out, but what we are really doing is returning to the ways of our ancestors to build on their legacy & return to our roots, gaining visionary insight & power for our lives.
What are the onsite options?
Two primary locations are in Tumwater, Washington & La Quinta, California, where you come to "class" inside & out on the land at 2 creative (nature + art) learning centers. From these "home bases" (both with many acres of Land), we go deeper into the wilderness for our ROP in the Olympic National Park & Joshua Tree National Park, which are close to their respective centers & WOW.
What is the purpose & outcome?
This will vary in the details, but overall the purpose is to find & make your way through a phase of deep but challenging growth to come through with the needed qualities & skills to take the next step in your life. This may be upon graduation from high school or college, after a disease or divorce or upon retirement, but it is really a time of transition & transformation.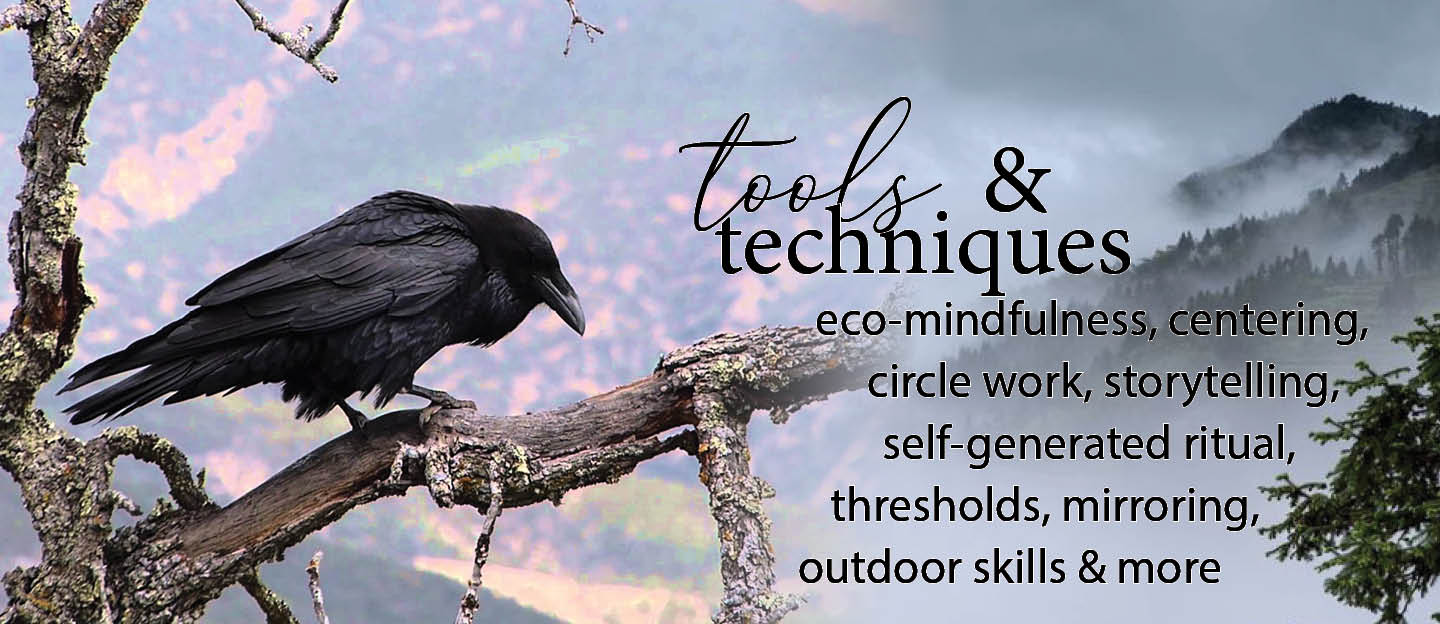 Circle Support & Teaching
Join in community
Land-Based Learning
Nature teaches you
Wilderness Rite of Passage
Vision in wilderness
Story Telling & Personal Myth
Retell your life story
Eco-Mindfulness & Psychology
Learn real life skills
Self-Generated Ritual
Create new meaning
Mirroring & Reflection
Vision: see & be seen
New Calling, ID & name
Find your way in life
Self-Regulation Skills
Calm & + awareness
Embodiment, Centering & Yoga
Embody your nature
Nature & Dream Journaling
Guides & records
Sketching & Painting to See
Art helps you notice
Create Symbolic Tools
Drum, necklace& art
Threshold Crossing
Initiate boundaries
Teaching & Talking Stick
= Leadership skills
Wilderness is healing, a therapy for the soul.
Nicholas Kristof
Tools culminate in your ROP
Your rite of passage is yours, designed by you with a basic template. While we will be in circle & there with you, you will also be alone on the land. What you do for the 1-3 nights of the rite is up to you . . . you can create a power circle, encampment, death lodge (metaphoric for rebirth) but in your way (or not). You may want to create ritual art or journal. You may design an elaborate ritual or keep it simple. What you do is between you & YOU. The only strict rules are that you check in with a partner by adding a stone each day & come back safe.
Every positive change--every jump to a higher level of energy and awareness--involves a rite of passage. Each time to ascend to a higher rung on the ladder of personal evolution, we must go through a period of discomfort, of initiation. [It is worth it.]
Dan Millman
Control your experience & process
We have reading . . . lots of it, if you want. Yet only a small amount is assigned, because this is meant to be flexible to accommodate your vision & needs
12 steps to a new sense of yourself
We begin and end with an opening and closing of the circle, as we come together. Week 1 & 2. Beginning with the stages of introduction and separation, you step away from your old life and self toward a new call and identity. Week 3 & 4. Learning about self-generated ritual and thresholds, you design your rite of passage, as we circle up together to create intentions. Week 5 & 6. Entering into your transformation, you experience time on the land before coming back into a circle of story and power. Week 7 & 8. Returning to integrate your experience within the circle of family and community, you embrace your new power, name, and identity, as you ground your experience in your daily life.
Step 1 Gather .
Introduction of the Circle
In our circle we introduce each other and new skills. We open fundamental questions: Who are you and why have you come?
What is your relationship to nature & what do you want it to be?
Step 2 Separation .
Circle Core Values & Beliefs
Holding circle and beginning to separate from your old life, values & beliefs. What do you want to take out or invite in your circle? Partner practice & boundary setting for pattern change with nature ritual.
Step 3 Preparation .
Circle for Design
Designing your rite of passage for YOU.
What do you want to bring with you and experience?
Step 4 Intention .
Circle for Intention
Circling up for intention: gather in ceremony.
Who are you and what calls you?
Step 5 Transformation .
Circle for Transformation
Entering onto the land to transform and create a power circle.
What is your calling, purpose, and identity? Mirroring introduction & practice as a group, with your partner & new friend: find a tree.
Step 6 Ritualization .
Circle for Power
Returning into a circle of story, ceremony, and power.
How are you witnessed and mirrored in your power?
Step 7 Initiation. ROP
Circle on the Land: ROP
Time on the land in your rite of passage.
Step 8 Integration . ROP
Rippling Out
Rippling out in your new life, purpose, and vision.
What do you want to do looking forward?
Step 9 Identification .
Circle in Community
Re-entering family, tribe, and community as your new identity.
Who are you now in relationship with the world?
Step 10 Continuation .
Rippling Out
Rippling out in your new life, purpose, and vision.
What do you want to do looking forward? How can you do it?

What are people saying . . .
Rites of passage lead to a life of greater authenticity, integrity, and intimacy. They offer a path of healing and transformation that is characterized by a greater love for life embodied in the image of the sunrise that marks the end of the passage on the third day with hope. Yet what you get from your passage will be unique to you. In a fundamental way, you get a new relationship with yourself and start to your life.
Our family healing rite of passage has been profound for me, facing the pain I caused, regaining harmony, feeling the love we all have for each other and our life, remembering and laughing together, all this has been a joyful transformation.
.I learned things about myself and from that made forward movement in healing which is great, huge and appreciated!
ROP Participant
Dr. Taylor was able to walk us through a group dynamic with remarkable ease. I was concerned that it would be emotional and resurrect our historical conflict. We were able to move through obstacles and reunite as a family. It was a truly transformative process.
My rite of passage opened me to a new perspective and a new love of life.
ROP Participant
The family rite of passage led by Dr. Heather Taylor-Zimmerman brought our family not simply closure on the past but a future. We were able to process old wounds and see each other in a new way. We have transformed our relationships to emerge with a deeper understanding, compassion and love for each other.
ROP Participant
The experience was transformative. My parents had not talked for decades and we had years of emotional trauma. I was hoping to simply be able to communicate with each other. What occurred far exceeded my expectations. We are not only able to communicate but my parents have become good friends. We were able to reclaim our family.
ROP Participant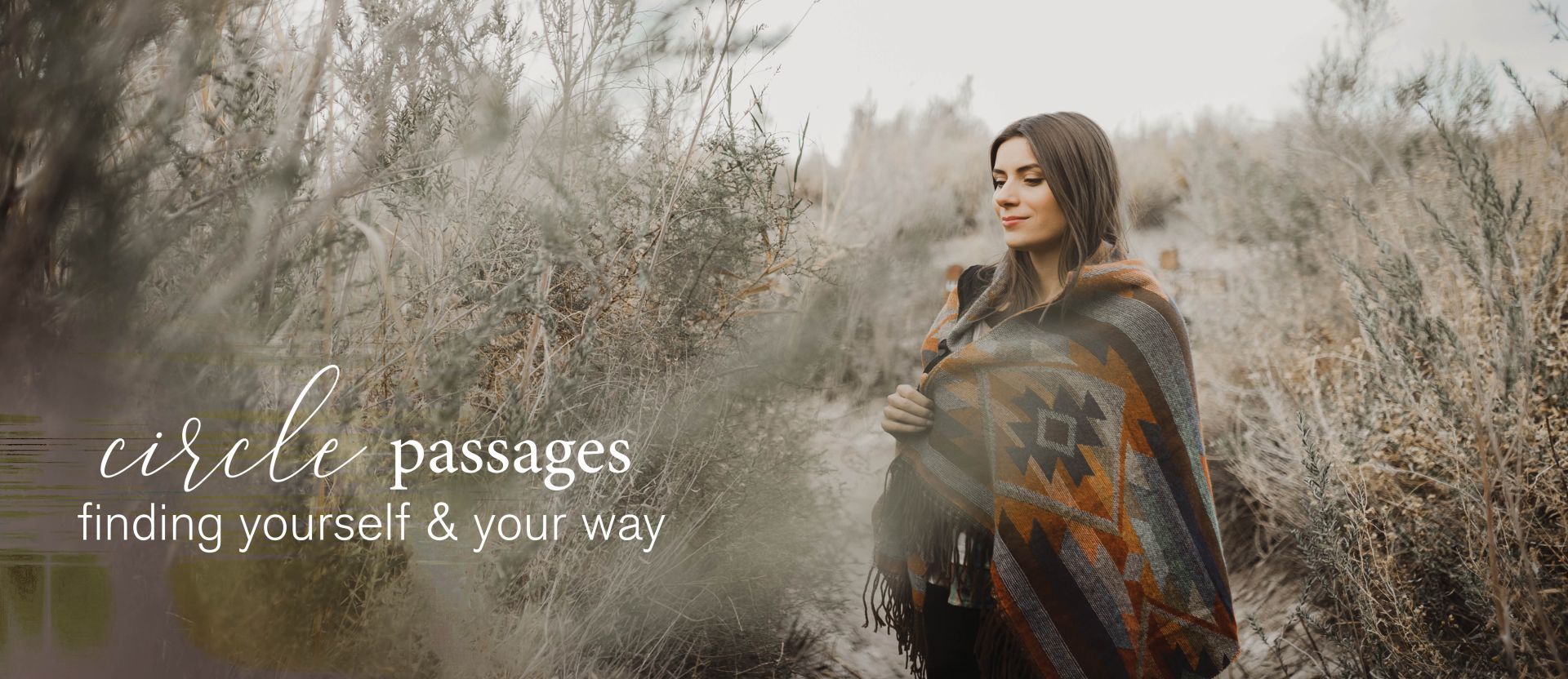 A quest of any kind is a heroic journey. It is a rite of passage that carries you to an inner place of silence and majesty and encourages you to live life more courageously and genuinely.
Denise Linn
Buck
Licensed Counselor, MA
ROP certified leader
Buck is drawn to the circle of rites of passage as a way to open hearts and minds. Extending his work with youth as a counselor, he believes in the gifts of the land that offer hope and renewal.
Jordan
Youth Counselor
ROP certified leader
Jordan is passionate about helping people find their way to a deeper and more authentic life. A youth counselor for years, Jordan loves helping people discover their passion and purpose.
Heather
Eco-Art Psychology, PhD
ROP certified leader
Heather has a deep calling to help people live authentic lives of deep meaning: to be themselves. She is particularly called to help youth find themselves and way on their life journey.
Certified: 4H, WSU, & Lost Borders
Buck, Jordan, and Heather offer unique gifts that reflect their diverse backgrounds, but they have all undergone the same training and certification to lead rites of passage, providing common ground--the circle. Their orientation reflects the archetypal nature of rites of passage that has remained consistent throughout human history. Reflecting the collective wisdom of traditions from Jungian to indigenous, they help you create your own tradition and your own rite of passage to encircle you.
None of us can discover personal bliss by blindly following the footsteps of other people.
Josh Stobbard
Nature is the real instructor.
Whether you are in a cabin or tent in a forest or a cabin on the beach, it is the land that you are instructed by, connecting your nature to nature. You are exploring the deep knowledge and wisdom of the land of your being to help you transform, healing to become whole. When you are in nature you are natural: yourself. You realize that you are not who you should be but who you were born to be and are. Nature helps you let go of limiting beliefs, patterns, and expectations to claim the power, passion, and purpose of who you really are. In this process of self-realization you are the instructor. As the saying goes: it's between you and You (your nature). So, find a natural place that calls to you.
Nature is a tool to get children to experience not just the wider world, but themselves.
Stephen Moss
The universe is circles within circles, and everything is one circle, and all the circles are connected to each other. Each family is a circle, and those family circles connect together and make a community, and the community makes its circle where it lives on the Earth. It cares for that part but cares for it as a circle--which is to say in a cooperative and egalitarian way, where everyone is cared for, and everyone is respected.
Black Elk & why we work in circles

What is a circle & why is it used?
Circles are the way that we have gathered through the ages to come together in family & community. Built around the archetypal image of the womb, egg & movement of the heavens, the circle is the archetype of wholeness. So, we gather in the healing wholeness of a circle unbroken to tell our stories. We come in equality to empower each other around a central altar of our own co-creation, as we pass the talking stick (altar element from cell phone to pinecone) to find our way back to our center. A circle is a way to come home to each other, our nature & ourselves. Circles are a way of gathering & being.
This offering comes with a six month monthly drop-in
A Circle Holds You
The Circle Provides safe Passage
While you are in the open expanse of nature, you are held in circle. Whether you are in circle on the land at BEloved nature sanctuary or in the deep wilderness of the rites of passage, you are held within a circle of support within and without. This is the power of the circle to hold, protect and support you as you grow and transform. The circle provides safe passage, keeping you safe as you go out on your own into the world. Like a cocoon, a circle provides the space for you to take wing and fly.
A Circle Opens You
Your are Your Guide
The rites of passage are designed by the individual and they are initiated to reflect the unique VISION and experience of YOUR process. While a fundamental archetypal (universal) structure is provided, individuals are encouraged to create their own circle of support and self-generated ritual, including options in terms of where and how the rite of passage takes place. While in the past the rite of passage was determined by culture and gender, we believe that people's processes are best reflected in initiating ceremonies of their own design.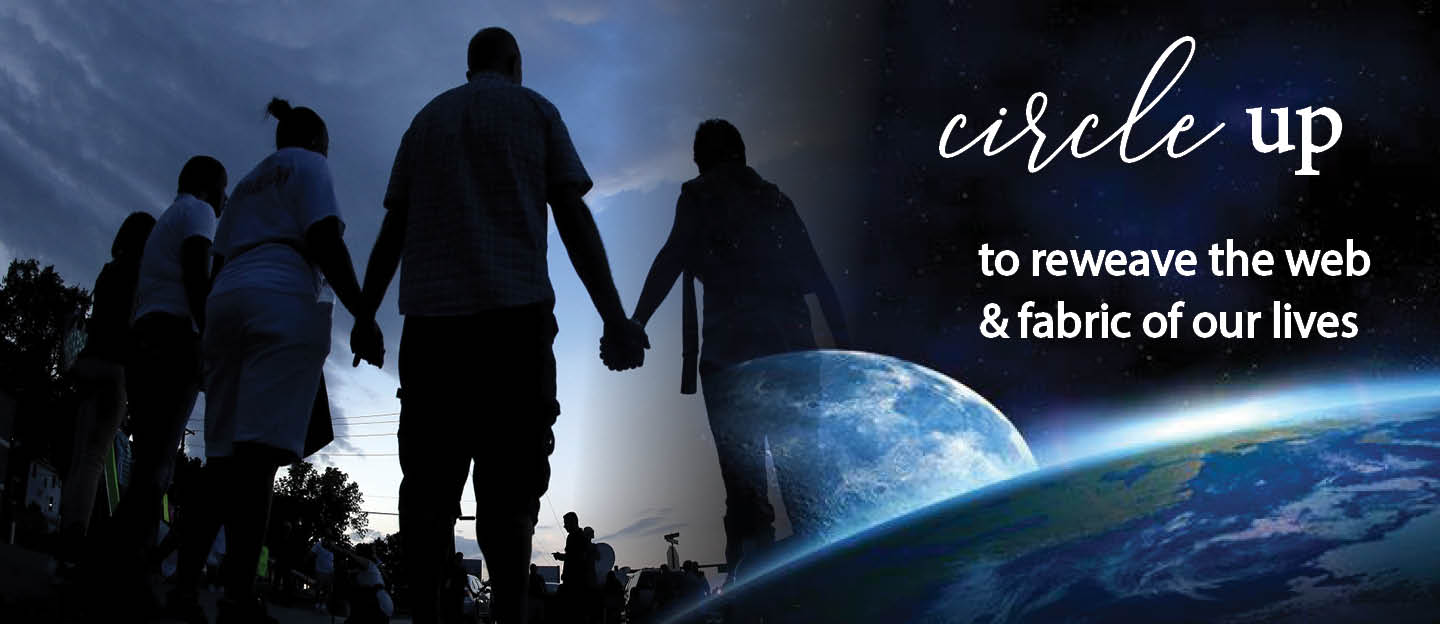 A circle of ONE
You are alone on the land
On the land and throughout this process you are fundamentally alone, reflecting on yourself and your life.
A power PARTNER
You check in with a partner
In this process you are held by a power partner who you check in with throughout the weeks and on the land.
A group CIRCLE
You are held within a circle
From beginning to end, you are held within the circle of the group to mirror and provide a container for your passage.
What is a modern rite of passage?
Rites of passage have been held for thousands of years but have been lost in the modern world. So, we gather in circle to help hold you and celebrate your transition from one state to another and from disease to greater health. We are offering ongoing courses remotely during the pandemic to help you find yourself and your way. Come gather.
vision quest. a time alone in nature in which you seek guidance from within to connect to your inner nature & calling, resulting in a new name, purpose & identity.
archetypal rite of passage for challenging transitions
This is your ceremony.
Your rite of passage reflects you--your values and identity. So, you get to design a ritual and ceremony to guide and honor your transformation. Building upon an archetypal structure that underlies rites of passage you get to pick how you experience your own. Is it in a forest or on the plains? Are you in a dwelling (cave, tent, cabin . . .) or out in the open? Unlike in the past when the way was determined by your culture and gender, you can design a rite of passage that reflects you through reflection exercises, journaling, guidelines, and self-generated ritual. We are here to help.
Reimagining roles & rites
On rites of passage death is a meaningful metaphor that calls us to be healed and whole, reborn in a new image. There is something magic about confronting death that brings you closer to life. Confronting death and fear, makes us more alive and more in love with life.
Cocoon for Growth
Circle is a safe space & place to go within to transform
Planting Seeds
Drop deep into the earth & your nature to sow seeds
Night Journey
Rites of passage take you into your darkness to die . . .
Sunrise Rebirth
As you emerge into greater love, confidence & hope
Dying to be healed and reborn.
On rites of passage death is a meaningful metaphor that calls us to be healed and whole, reborn in a new image. There is something magic about confronting death that brings you closer to life. Confronting death and fear, makes us more alive and more in love with life.
Guaranteed Security using one of the most advanced encrypted systems on the market.
The information in this page is being processed and encrypted securely using industry-leading encryption and fraud prevention tools.
Create safe space to change & grow
This is called Circle Passages because it is held in a circle. As you undergo your rite of passage there are 3 circles that provide safe passage.
Create a Medicine Drum & more
Reflecting traditions throughout the ages, you get to create a rattle, drum, necklace & medicine wheel to help hold your vision. Constructed throughout your journey, you draw or decorate your instrument with symbolic images from your initiatory journey, embodied in an instrument that empowers your life.
Power Necklace
Make a symbolic image
Decorate a carved wooden pendant with a power image and cover it with glass. Then string your necklace with leather. Supply packets are available for groups.
Medicine Pouch
Make a power instrument
Create a drum as a power circle to hold you on your quest and remind you of your passage. Recommendations for drum supplies are available on request.
Story Rattle
Tell your story your way
Decorate a rattle to take with you to mark your passage, tell your story, and symbolize your new name and identity. Rattle packets are available for groups.